Have you been working hard on your Facebook? Creating awesome content, responding back to comments and messages, and reaching out to local groups, but not seeing the increase in new customers in your business? Did you know that in the last 7 years Facebook has changed their algorithm to restrict your normal posts? 7 years ago if you would create a normal post anywhere from 40%-70% of your followers would see that post. Today only 2%-6% of your followers will see that post. Why did Facebook make this change? They want you to do paid advertising!
There are two ways to do paid ads on Facebook. You can "Boost" your post or you can run ads in Facebook Business Manager. Maybe you have clicked the "boost" button before or have been tempted to do so.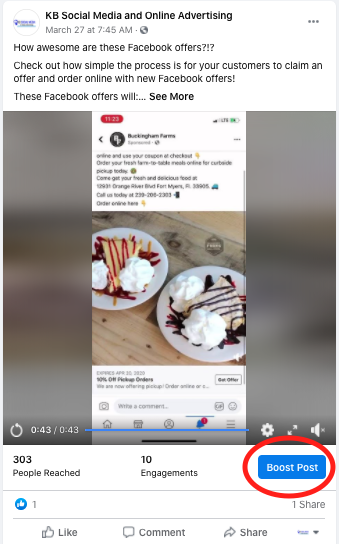 Boosting your post is great for reaching out to new customers, but I am going to let you in on a little secret........
If you are just boosting your post you are not using Facebook to its full potential! Facebook not only allows you to reach out to a new audience but will also help you find your ideal customer and when done correctly can get you the lowest cost on new customer acquisition! 
Facebook has more information on your desired customers than any other medium out there! Not only can you target by age, location, occupation, and wealth but you can also target by individual interests. The key behind all these different forms of targeting is the ability to test one form of targeting against another form to see what brings you in the most amount of customers for less. This is the value of Facebook Business Manager.
This is what Facebook Business Manager looks like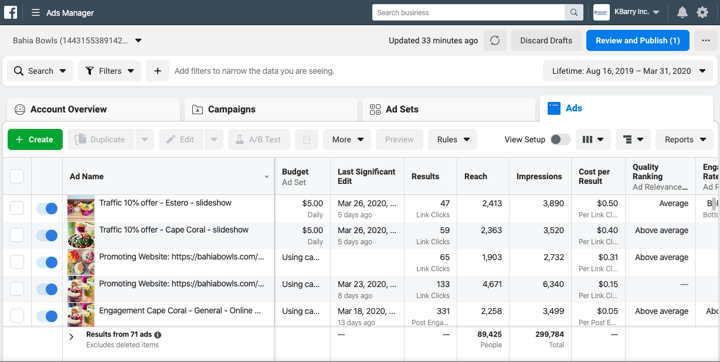 Facebook has been upgrading their platform so you can run different ads directly from you Facebook business page but they do not give you the ability to A/B Test. Let's go over the three parts of Facebook Business Manager and see why this is such a valuable tool.
Part 1: The Campaign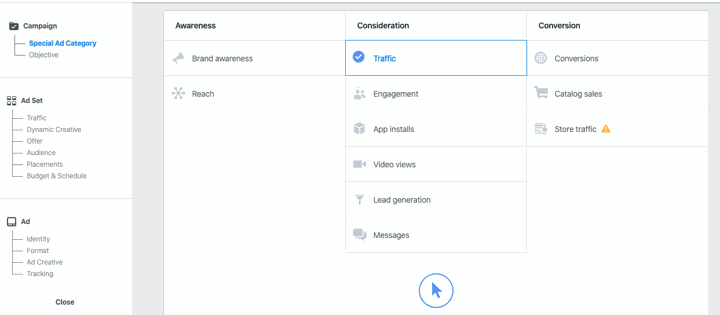 The campaign is the overall goal of the advertising program you are putting together. If you want to reach out to cold traffic and just get your name in front of customers at the lowest cost possible do a "Traffic" campaign. If you want to get direct information from your customer such as phone, email, and name use the "Lead generation" campaign and a form will pop up directly on Facebook for your next customer to fill out. If you want to track your direct results for actions on your website use the "Conversion" campaign and you will be able to track exactly how many customers hit a certain page on your website. For local businesses we mainly use traffic, engagement, conversions, and store traffic if they have a brick and mortar location. 
---
Part 2: Ad Set or Targeting 

The campaign is the simple part. There are some tips and tricks but you can find those with a simple Google search( or just set an appointment with us and we will help you out). The Ad set is where you set your targeting. This is extremely important and is your first step towards success in Facebook advertising. With Facebook ads you can target location, age, gender, interest, behaviors, demographics and more. As you can see from the picture above we test multiple different highly targeted customers. This allows us to find your ideal online customer. My recommendation is start off by breaking up your customers into multiple different target markets. Using the image above as an example, we are advertising for a health based fast food store in Cape Coral. We created separate targeting for the general area, health food, woman, drinks, foodies and more! When you go back and look at the data you can see a directly correlation with the cost per click or cost per 1,000 views (CPM) with the most successful targeting. P.S. Testing is the key to success! This isn't a newspaper ad where once you agree you have to spend hundreds of dollars. You can target a customer base with $20 and if you don't see success simply turn off the targeting to those customers. 
---
Part 3: Ads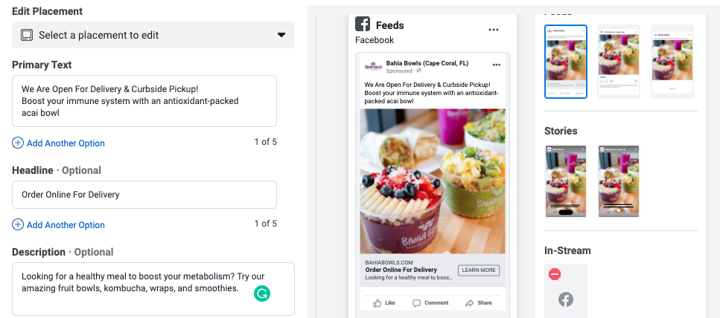 The ads are the bread and butter to a successful advertising campaign. Don't get me wrong, if you try to sell a product to a target market that has no interest in your product it doesn't matter how good your ads are they will fail. But once you hone in on your target market the ads are where you grab their attention and get them to start asking questions about your business. There are four main aspects to a Facebook ad:
The Image - On Facebook you can have a single image, a video, or a carousel which is multiple images or videos in a single ad. The main purpose of the image is to stop the person from scrolling! Video has the highest overall conversion rate for any ads because it grabs the viewers attention. When creating your image keep in mind customers are scrolling quickly through their Facebook newsfeed and you need something to stop their scroll. An awesome tool to help with Facebook graphics is Canva. The image is the first thing your customer will see.
Primary Text - This is the text that is located above your advertisement. This text is what will push the customer to wanting to learn more about your business and interact with your ad. There are several studies on how to write the best primary text but here is another blog post that might help you start your journey with ad copy. Keep in mind the customer will first see your image, than read your headline and finally will read this primary text. If you get the customer to the point of reading this text make it count! Make sure you are clear with your offer and try to talk directly to that given target audience. 
Headline - This is the first text the customer will see in your ad. After the image stops them the headline is what will grab their attention. This is the text located just under the image. Your headline needs to get your viewer saying, " I want to learn more." This will drive them to your primary text. A great way to learn to write great headlines is looking at the news. Many news articles and newspapers have been perfecting headlines for decades. You can also think of this as the subject line in an email, if you do not write something engaging and resonating with the customer they will not continue to read the ad.
Description/Call To Action - The description is the small text under the headline and the call to action is the words inside the button itself. With Facebook ads you have very limited options for calls to actions and I highly recommend you use "Learn More" about 95% of the time unless you are directing the customer straight to a sales page and they already know about your business. Calls to actions in advertisements are very important but you will be adding those calls to your headline, primary text, and possible your image. As for the description this is where you can put a little more information with your headline. This is the support text to transfer your viewer from the headline to the primary text. The customer usually only sees the first 5-10 words so make sure you aren't redundant but you are still resonating with your target market.
I must say over and over again, please test, test, and test some more! I have run hundreds of ads and I still don't walk into any campaign thinking I know the exact image, copy, and targeting that will give me the best results. Testing takes the guesswork out of finding customers for your business and ensures you are finding the customer for the lowest possible cost. If you want a better visual on how to work Facebook Business Manager check out our Youtube page. If you want one of our marketing pros to go through your ad account and give you some recommendations or if you are just starting and looking for some help schedule a call with us today and we will be glad to help you out!