As I write this there are over 1 billion people active on Facebook and more than 100 million people use Instagram every month. These two platforms are the most talked about way for restaurants to find new customers and connect with their current customers.
Why?
Imagery is everything for restaurants. From the mouthwater pictures of your food to the breathtaking videos of your restaurant's atmosphere, customers develop interest by seeing what your restaurant offers! Social media allows you to show that and more. In one social media page customers can find what your food looks like, how your staff looks, what your atmosphere looks like, your reviews from previous customers, and are one click away from your online order or directions to your location. Are you selling your business to the best of your ability on your social media channels?
I want to debunk 5 secrets to growing any restaurant through social media. Any food business, from a food truck to a fine dining restaurant, can grow and benefit from social media, but like any marketing platform if you don't use social media correctly you will spend a lot of money and time and see no return. Here are some secrets to make sure you have a positive return on your social media. If you don't care to read and just want someone to handle the craziness of social media click here and set an appointment
Posts Are For Followers, Ads Are For Growth
Facebook has been messing with your friends and followers without even telling you. Since 2012 your organic reach of your Facebook and Instagram posts has been decreasing.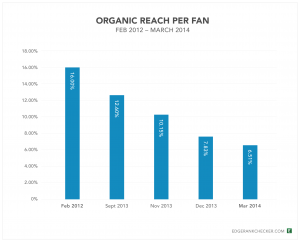 In 2012 if you posted on your Facebook or Instagram 16% of your followers would see your post! In 2020 only 1%-2% of your followers will see your posts. The only way to increase that number is to get your followers to like, share, and comment on your posts, basically the reach is out of your hands. 
Ads are completely different. You purchase the views at a very low cost, on average $1.25 for every 1,000 people. With ads you can target your current followers, local customers, or any interest or behavior of your customers on Facebook.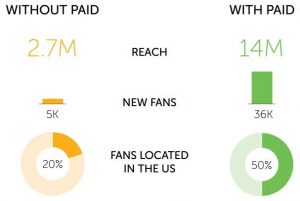 Let me make something clear, you still need to post on your social media pages. Your content should be updated regularly. If you run ads without updating your profile the customer will see your ad, click to your profile, and be left unsatisfied and not make the next step to come in your restaurant or order online. I just want to be clear that your social media posts are less likely to grow your business. You should look at your social media ads as your business growth and your social media posts as your updates to your customers. 
Reach Vs. Traffic Vs. Conversions
Have you ever seen this screen before?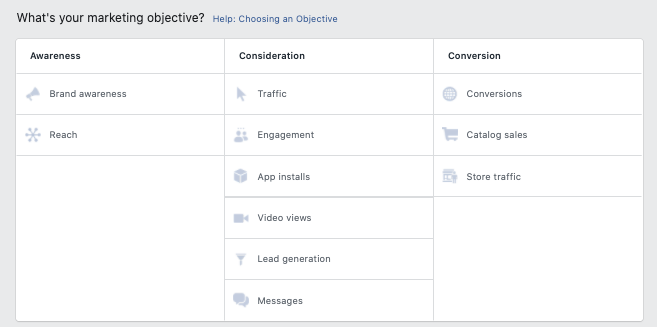 This is the first step to any Facebook and Instagram advertising campaign. A lot of marketers and business owners get stuck here trying to decide what is the best campaign strategy to grow your business. We have tested every one of these campaign types and have found the best objectives to use in each situation
Drive Traffic To Your Location - The best campaign to use to drive traffic to your location is Reach. Reach advertisements are designed to be shown to the most amount of people in your chosen area or interest. These ads are awesome because you can produce ads like this: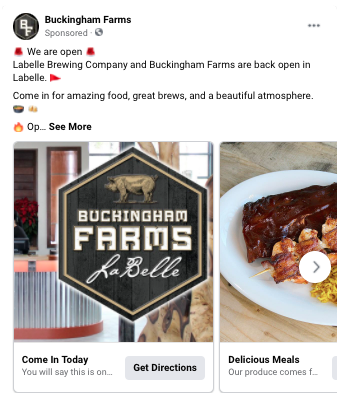 This add only runs during their operating hours and when a customer clicks on their ad they go directly to navigation to be directed to their location! When running Reach ads you should be focused on your CPM or cost per 1000 people reached. An average CPM for restaurants is around $2, but with the right targeting and ads you can get that price much lower!
If you have multiple locations you can use store location ads but these are a little more difficult to initially set up. If you ever need help with setup my team are dedicated Facebook experts, you can set an appointment here.
Drive Customers To Your Website, Landing Page, Or Special Offer - Traffic campaigns are designed to optimize to show to people that will click your ad. Traffic campaign ads do not have the option of putting a button for direction or to call, but they are the best at driving customers to somewhere else online. We use these ads to connect with the local area, after Reach ads, to find out who truly has interest in your restaurant. The average cost per click (CPC) for restaurants nationwide is......undetermined by huge marketing companies like Wordstream, but on average our restaurant clients see $1.44 cost per click. Traffic based ads are good if you have a large advertising budget for your restaurant. If your budget is smaller you should stick to Reach and Conversion based ads. 
Get Online Orders - This is where the all the magis is for Facebook advertising for restaurants. Conversion based ads are like Traffic ads in the sense that they are sending customers to a different website. The major difference is Traffic ads will optimize to show ads to customers that will click on your ads while Conversion ads will optimize to show ads to your customers that will do something specific on your website, like make a purchase. 
Traffic ads will give you reports like this:

Conversion ads will give you reports like this:

Although both ads are sending customers to your website or online order page conversion based ads will outperform traffic based ads every time if your goal is to increase online orders. To set up conversion ads correctly you need to understand how to add the Facebook Pixel to your site. We do this for free for any restaurant that has not set their Facebook pixel up yet because we believe it is that important for your success advertising online! 
P.S. That is a direct screenshot from one of our clients advertising results. They spent $150 in ads and saw over $1,900 in online orders!
The rest of the campaign options such as engagement, video views, and messages all have their own individual value. If you want to discuss a marketing plan for your restaurant or you're serious about Facebook ads call my direct line today (239)308-6894. 
Facebook Offers
This is the secret sauce that NOBODY is talking about! Recently Facebook created Facebook Offers. This is by far the best way to get your coupons into the hands of your customers. Check out this video below of exactly how Facebook Offers work for the customer:
So why are these offers the bees knees? let's break down why Facebook based coupons are the best way to distribute offers or coupons for your business.
One Click To Purchase - These offers will not only show your hours, location, phone number, and information about your offer, but these offers are also one click away from your online order page making ordering with your coupon easier than ever.
Never Lose A Coupon - Every offer is saved to the customers phone within their Facebook offers. Don't have to carry anything around or worry about losing the coupon. Not only is the coupon saved to the customers phone but if they go from the offer to your online order page the coupon will stay on the same page so they can use the coupon with a click of a button.
Multiple Reminders To Use Coupon - This is not like the coupon you leave on the fridge and throw away when it expires. Once saved this offer will send reminders to your customer when the offer is about to expire or when the customer drives within a 3 mile radius of your location! Don't just distribute your coupons better, but get more coupons redeemed!
Unique Coupon Codes - Are you worried about putting a coupon online and having that same coupon used over and over again? No need to worry with Facebook offers. You can set up unique coupon codes or unique UPC codes to make sure each customer only gets one coupon with only one possible redemption! Create an offer, put a description, set an expiration type, and choose how the offer is redeemed all through Facebook Offers.
Look at your POS system and find the best way to redeem offers within your business and then create that within Facebook offers. With some advertising dollars you can have coupons in every local customers pocket with those customers getting constant reminders to order from your business. 
Facebook Pixel Tracking - Exact ROI
This is where Facebook ads become a no brainer for restaurant owners. With small margins and having to closely watch your advertising dollars you need a closed nit analytics system to ensure your advertising dollars are bringing you a positive return. Facebook ads combined with the Facebook pixel can give you an exact return on your advertising investment like this: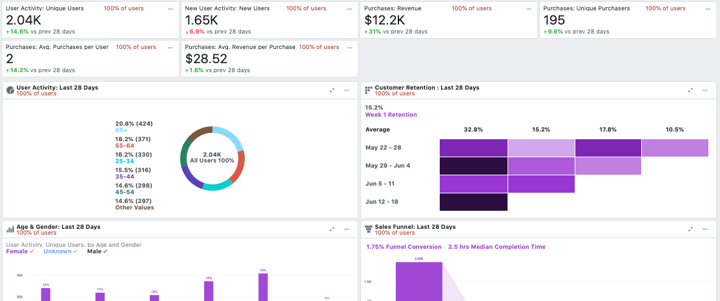 The facebook ad platform will track people reached, impressions, clicks, purchases, and engagement on the ads. The Facebook pixel can track what happens when the customer sees the ad and everything afterword. Monthly value of each customer, how often your customers return, demographic of your customers, total revenue, website conversion rate, and more! To set this up correctly you need to add the Facebook pixel to your site and then add your event code to each page. Once your event code is set then you need to give your purchase event a value on page to track the value of each purchase!
The Facebook pixel also allows another level of targeting. Do you want to target only new customers and exclude anybody from seeing your ad that has already ordered online with you or has been to your website? We can do that. Do you want to target customers that come to your website but haven't purchased with a special discount offer? We can do that! Do you want to retarget all the customers who have set a reservation in the past with a special promotion? We can do that too! The Facebook pixel gives you a complete understanding of the customers connecting with your business and allows you to treat each customer as an individual instead of blasting one message across the entire internet.
 Targeting Then Imagery Then Copy
After picking the campaign type there are three main aspects to every Facebook ad; the audience you target, the imagery you use, and the copy you use around your ad. If you get any of these three wrong you will overpay and get poor performance from your advertising. If you get these three right you will have a profitable and scalable advertisement! Let's break down these three aspects and discuss how to ensure your advertising dollars bring you back a positive return!
The Customers You Target - If you promote even the best product to the wrong audience they will not purchase. For restaurants you are mainly focused within a 5-10 mile radius, but different targeted interest and behaviors can bring widely different results!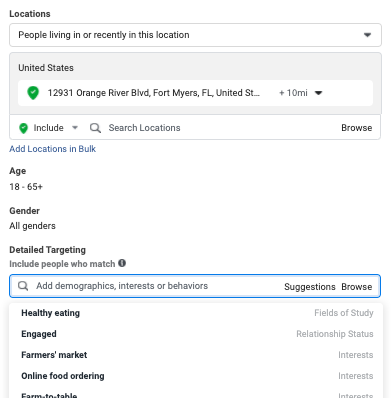 Targeting men versus women, age groups, and specific interests and behaviors will bring you a different cost per result! You as a business should test multiple different types of targeting and find out what brings the best return! P.S. Don't forget to create and target lookalike audiences and retarget customers from your website visits!
Imagery To Stop The Scroll - You are connecting with these customers on a social platform filled with information and content! You need pictures or videos that will get your customers to stop scrolling as they go through their social media and grab their intention. Imagery that is not eye catching will not deliver good results. Video, on average, performs better than pictures due to the eye catching movement of video! With restaurant ads specifically we found a lot of success with carousel ads! Just ensure your images are focused around your food, clear, and eye catching. 
Copy That Sells - Studies have shown customers will first see your imagery, than read your headline, and finally read your copy before clicking on your ad. After you target the right customer, grab their attention with your pictures or videos, it is time to sell them with your copy! Here is an article to get a better understanding of how to write copy for social media ads!
All in all, these 5 critical aspects of Facebook ads can help you push your business to the next level! From creating profitable ads to distributing coupons across the internet I hope these tips help you and your restaurant! If you want help setting up your system or want someone to handle your facebook ads for you connect with us today!